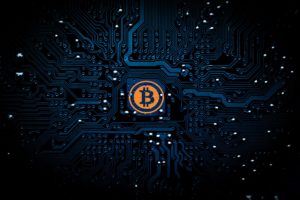 The financial world is frustrated of having the cryptocurrency as a new payment means because this as we mentioned before in part I needs more credibility and backup from central banks and governments. By looking deeper at the currency's criteria, we distinguished some points why this digital currency until now is not qualified to take a place among other physical money and assets.
Last week at the G20 summit 2018, the financial leaders in Buenos Aires believe that the virtual currency is  comprehended as an asset and should be taxed on capital gain. As physical currencies like EUR/USD fundamentally recorded no handle volume because markets treat it as a payment unit, bitcoin on contrary do have trading volume.
Furthermore, the cryptocurrency (or crypto-asset) as investment vehicle is still no danger to the international economy since it consists the 1% to the global GDP. Specifically, when it is compared to gold and US T- bonds as saving value asset, as we can conceive in the chart below the Bitcoin- average trading volume did not reach the average liquidity level of other assets, which is 57%, 68%, 58% of US 2 year T- bond, US 30 year T- bond, and for gold respectively.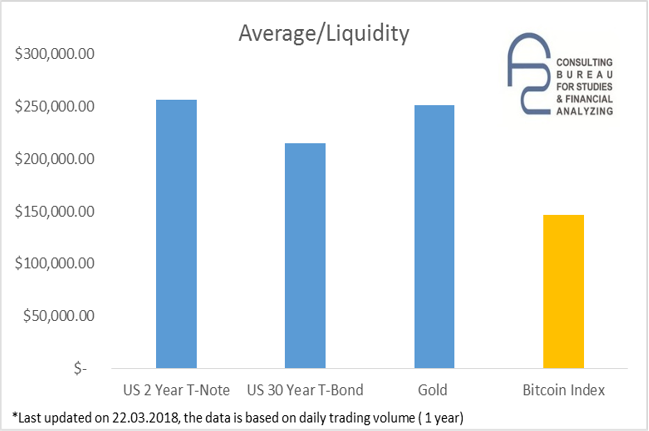 However, the cryptocurrency could harm for the international economy if it could reach a higher trading volume like Down Jones and other leading indices and ETFs. In the graph below we can identify the liquidity level of Down Jones, DAX, and S&P 500 ETF compared to bitcoin which barely be noticed.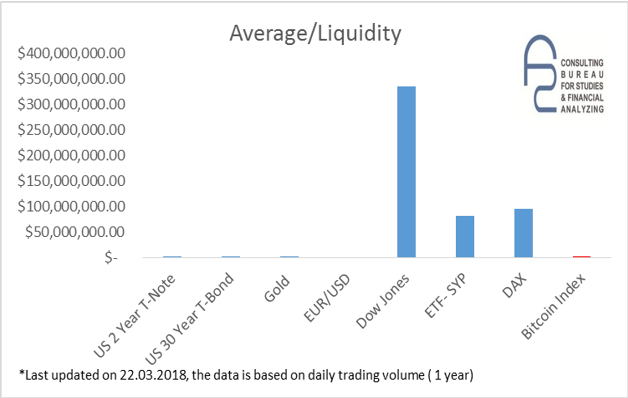 Digital currency is quiet no value saver, since it has the highest-level of recorded volatility compared to EUR/USD, gold, indices and treasury bond. The chart below explains how volatile is the bitcoin price especially in the studied period (one year). This unstable status refers to the lack in credibility and frustration of all market players in accepting the crypto as currency or as asset despite the illegal use of virtual currencies e.g. money laundering and others.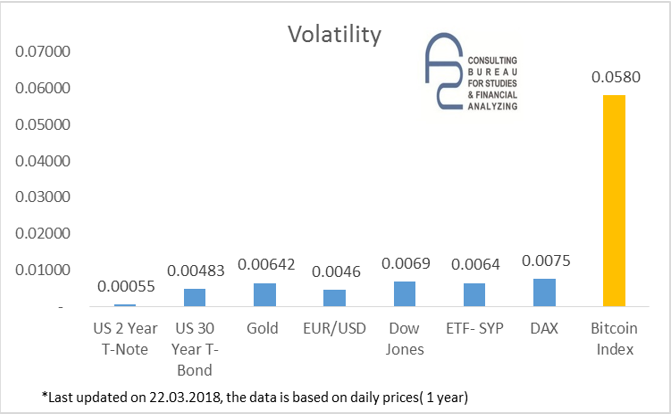 As conclusion, demonstration the pros and contras of digital money will give us a clearer picture of it.
Cryptocurrency Pros,
It is decentralized which makes it faster and easier
Free accessibility for al market players
It is a secure payment means because it is encrypted and untraceable
It could be used by the governments to do some political pressure in the international field
Cryptocurrency contras
It could be used for illegal proposes
It has no credibility because it is not regulated yet by governments and financial institutions
Traders take it for speculation not for investment, which makes it volatile.
Economically, it is costly because transaction of cryptocurrency consumes too much energy
The usage of crypto money is still limited
It is not value saver yet.
It is not payment unit yet.
It is not accounted by banks and other financial institutions.
As the cryptocurrency is a subject of many disadvantages financially and economically. This support the idea that it needs more time and more observation and it is even not an investment vehicle.